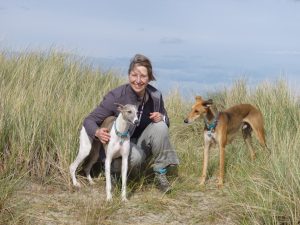 Animals have always played an extremely important role in my life – from my first rabbit when I was ten to my dream of becoming a vet. I qualified in Germany in 1994 and moved to England in 1995 – and fell in love with this country. My first job was with the PDSA in Brighton where I gained a lot of experience, dealing with many different and difficult cases. I also worked in several other practices in the area and then moved on to Heath Vets in Hurstpierpoint. I very much enjoyed the challenges all the different jobs provided. I particularly enjoyed being part of my patient's journey through life. I developed special interests in rabbit medicine, having shared my life with many over the years, also dog training and behaviour, having owned five rescue dogs now. I decided to leave Heath vets beginning of this year and I now work at Top cat Vets in Brighton and provide mobile acupuncture services for small animals.
I became interested in Acupuncture a long time ago and completed the ABVA foundation course in 2007. Then in 2010/11 I travelled monthly to Germany for an intensive course in Traditional Chinese Medicine with Tierakupunkturschule, Wuppertal. In 2011/2012 I completed the IVAS course in Brussels and gained IVAS certification. I have been practicing Acupuncture in mainly small animals now for many year, treating dogs, cats, but also my own rabbit and my horse. Again and again I have been astonished by some of the results. I believe Acupuncture can provide a wonderful tool to be used in many different cases in young and old animals, with acute and chronic disease.
I currently share my life with my three-legged older house rabbit Bernie, my rescue dogs Louie and Benny and my old horse Kevin.